Interview guests
Bring guests to the space for up to two hours at no cost
Professional mics
Use our Zoom recorders and mics to create crystal clear assets
Bookable
Reserve the media studio for up to four hours at a time
BYO device
Hub provides lighting, tripods, mics, zoom devices, and backdrops
Interview guests
Bring guests to the space for up to two hours at no cost
Professional mics
Use our Zoom recorders and mics to create crystal clear assets
Bookable
Reserve the media studio for up to four hours at a time
BYO device
Hub provides lighting, tripods, mics, zoom devices, and backdrops
Podcast Equipment
Each media studio is equipped with podcasting equipment, allowing members to create their own audio recordings, interviews, and content, letting them expand their brand's impact and audience.
Photography Equipment
Create beautifully-lit photo and video content for your brand with Hub's professional equipment. With lightboxes, tripods, and clear backdrops available, add a new level of professionalism to your business resources and imagery.
VR Kit
Take your business into the future with access to Hub's VR Kits, available in Hub Parliament Station (Melbourne), Hub Customs House (Sydney), and Hub Anzac Square (Brisbane).
Whether you're working on a visual walkthrough or want to create a state-of-the-art induction, access the right tools in Hub's media studio.
Member Stories
Read about one of Hub's members, Ted Richards from Six Park, who used Hub's in-house media studio to launch his own podcast.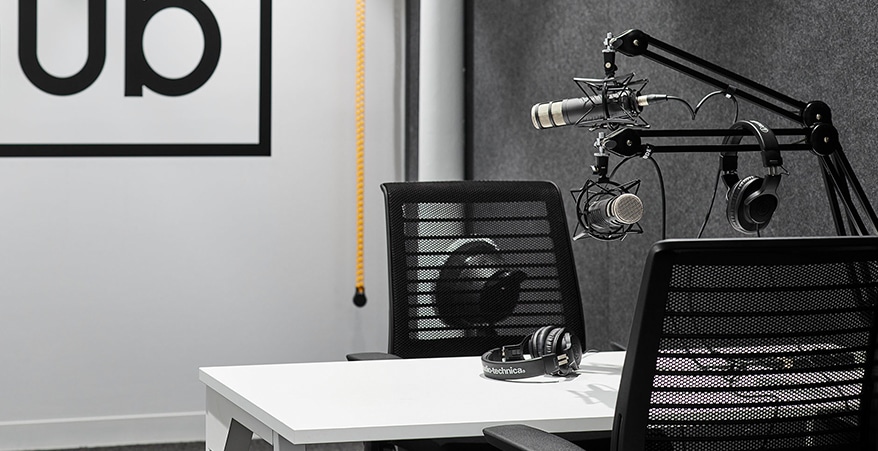 Interested in becoming a Hub Member?
Contact our team today about becoming a member of Hub in either Sydney, Melbourne, Canberra, Brisbane or Adelaide and you'll get access to our media studio. External hire available on request - please enquire for pricing.