Hub Anzac Square
Brisbane / Jagera Country / QLD
Level 6, 200 Adelaide Street
Brisbane QLD 4000
A serene space in the inner city, sprawling across five levels with a sun-soaked rooftop.
Thank you for your Interest
Fill in your details below to download the brochure for Hub Anzac Square Brochure.
Amenities in the Space
Business Lounge and Café
Parents' Space
End-of-Trip Facilities and Shower
Member Kitchen
Fitness Studio
Podcast and Media Studio
Meeting and Workshop Spaces
Printing Facilities
Secure Fibre
Dog Friendly
Carbon Neutral Certified
WELL Health-Safety Rated
A Sophisticated Retreat
The Hub Anzac Square Experience
Just above Brisbane Central Station
Moments from Queen Street Mall, luxury retailers of QueensPlaza, and food options in Macarthur Central
3-minute walk to the Anzac Square green space
Around the Neighbourhood
Known by some as Australia's most up-and-coming city, likely due to the migration of young couples and families in recent years, Brisbane has come a long way. No longer do you need to travel to its East Coast counterparts to enjoy a good meal, sip on a great cup of coffee, or spend a night bar-hopping.
A Serene Space
Sun-drenched and spacious, Hub Anzac Square exudes tranquillity, with light timber, lush greenery, and big windows letting floods of light in. With plenty of opportunity for fresh air and sunshine on the level two courtyard or the open-air rooftop, it offers the perfect space for work and leisure.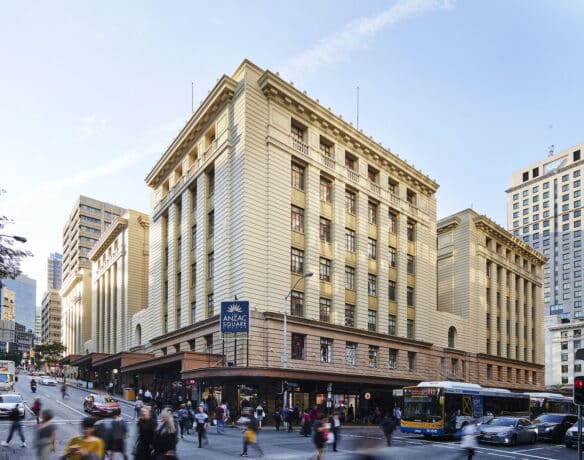 Local Tip
Miss Demeanour is located a stones throw from Hub Anzac Square, just off Rowes Lane. Its unassuming entrance tucked away from Edward Street makes it a perfect spot for a quiet drink. If you're partial to a Friday afternoon cocktail, this is the place to start your evening!
Oliver Morgan
Area Manager at Hub Australia
Workspace Options
Filter workspaces
Discover your work space and
love where you work®
Insights. Ideas. Collaboration.
Contact Us
Whether you're looking for a new workspace, a meeting or event space, or you've just got a query, fill out the form below and a member of our team will be in contact soon.
Proudly providing premium workspace experiences to